VILLA ANNIE is located in Middle Dalmatia, on Croatian coast of Adriatic Sea, in small village Poljica, between Split (30km to the East) and Sibenik (50km to the West). Poljica is very well connected with good roads and air lines (Airport Split is 20km to the East). Main Adriatic Road (A1) passes through the village, so it is very easy to find our house.
If you are coming by road, follow main Croatian road (D1) from Zagreb through Karlovac, Gracac and Knin to reach Poljica from the North. If you are coming from Italy, you will reach Trogir by following Adriatic Road through Rijeka, Senj, Zadar and Sibenik.

When you are in Trogir, follow the main road to Sibenik, drive for 8km and you will see the road sign of village Poljica. After 300m, there is a left turn to enter village from the North. Drive for more 500m and you should not miss the table of "VILLA ANNIE", just on the sea shore. If you are coming from Sibenik, pass village Marina, drive for 1km and you should see the big neon table of VILLA ANNIE on your right side. Take next right turn to the sea shore where you will see the house.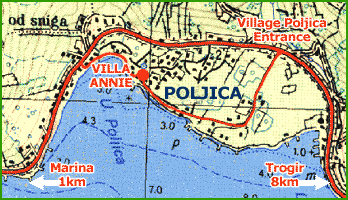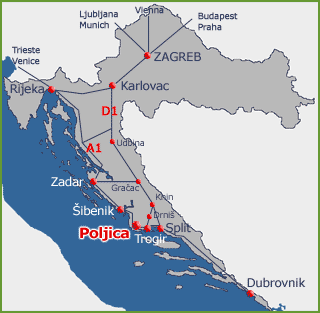 Once you are close to us (Trogir or Marina), you may always call for help on our mobile phone and we will come to escort you to our house. Telephone number is: +385 (0) 91 536 19 63